Fashion Stylist
About Me
"Dress for the life you deserve".
S
abina Herga, eine self-made Powerfrau und Liebevolle Mutter mit good Vibes Mentalität. Ihre Karriere in der Modewelt begann von ungefähr 20 Jahren in Amerika, dem Land der unbegrenzten Fashion-Möglichkeiten
We continue to challenge the present. There is no finish line. There is always a new barrier to break a new design to create, a new material to implement, a new level of precision and even greater excellence. We cannot know what the future has in store but we do know that, if we continue to look forward, we will be among those who created it. 
Vor etwas über 10 Jahren traf sie den Entschluss die amerikanischen Trends nach Ӧsterreich zu bringen. Und genau dies tat sie. Mit einem Lächeln auf den Lippen und einer Passion für Ihre Tätigkeit verzauberte sie im Nu die österreichische Modewelt. Anfänglich hielt sie ihren Namen aus der Ӧffentlichkeit, aus dem simplen Grund auf eigenen Beinen stehen zu wollen. Sabina Herga wollte sich nie auf ihrem amerikanischem Erfolg ausruhen, sondern in Ӧsterrreich einen modischen Neustart wagen. 10 Jahre später verfolgt sie immernoch das selbe Ziel: Ӧsterreich modisch weiterzubringen.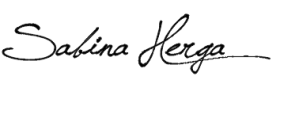 EST. 2011
sama fashion austria